What Is Pay Per Lead Marketing?
Performance-based marketing includes pay per lead advertising. Indicating that before receiving payment, the marketing firm must deliver results. The marketing company and the marketer may benefit equally from it. The "per action" service fee has been agreed upon by both parties. Pay per lead marketing service is one of the inventive strategies companies have had to employ to attract customers. 
It can be very challenging for many businesses to draw in qualified customers. Unfortunately, in the digital age, finding customers has grown even more challenging. No matter how much money is spent on running pay per lead advertising campaigns, it is virtually impossible to guarantee that those advertisements are reaching the right audience. 
Benefits of Pay Per Lead Marketing?
Finding leads is one method by which businesses can avoid squandering funds on advertisements that will not result in customers. A lead is a potential customer who expresses interest in the goods or services of a brand in marketing terms. 
Pay per lead marketing service might be the best option for you if your company operates in a highly competitive market or if leads are simply difficult to come by. 
What then is it?
Pay per lead Dubai marketing has a straightforward definition. An online marketing payment model known as pay per leads Dubai requires that customers only pay after delivering quality leads. pay per lead marketing is, in essence, an economical way to find high-quality leads. pay per lead marketing service initiatives lessen financial risk while giving business owners a sense of predictability in terms of leads.
Pay Per Lead generation Dubai
Anyone who is interested in what a specific brand has to offer can be referred to as a "lead" from a marketing standpoint. There are numerous ways to find leads, including through demographic data and monitoring their social media interests. 
Operating under the premise that all leads are good leads is one of the biggest marketing mistakes brands make. When trying to attract customers to your brand, the quality of your leads is more important than their overall quantity. 
For instance, a new company can spend money to run advertisements on various social media websites. Even though the brand might gain a few new customers as a result of its advertisement, it might not be the best strategy for doing so. 
Consider how many of the 100 people who would see that advertisement in their feeds would actually be potential new customers.
Get assisted by one of the most reputable b2b Pay Per Lead companies in Dubai
In terms of digital pay per lead marketing service, marketing agencies find leads through something called a "conversion event." These include steps like contacting a company for more information, subscribing to its newsletter, making a phone call, and filling out a contact form on the company website. 
When you reach an agreement with your lead generation Dubai agency, you'll be able to estimate how much money you'll spend on marketing each month and learn how many leads you can anticipate.
PPL marketing companies will only be paid after delivering a list of leads who are interested. You will receive leads of the highest caliber as a result of this requirement. Because PPL agencies are aware that they won't be paid until these high-quality leads are delivered, they are more motivated to only include those who are prepared to move forward.
What is the typical lead cost for your company?
For a new brand, it can be very exciting to consider obtaining a predetermined number of qualified leads via pay per leads Dubai internet marketing. Having said that, it is unquestionably something that needs to be anticipated in your budget. With the help of your digital marketing agency, you can agree on a PPL quota that works with your spending plan. 
It's critical to take your willingness to pay for customer acquisition into account when figuring out your cost per lead. Customer acquisition costs should not exceed 10% of revenue, according to a general rule that many brands adhere to. 
You should be prepared to spend up to $10 to bring in just one customer, for instance, if your service costs $100. 
The next aspect to consider in your budget is your sales team. What percentage of leads does your sales team close on?
Multiplying your acquisition cost by your acquisition rate will allow you to determine your cost per lead. That will give you a good idea of how much you can expect to pay per lead agency.
Completed projects to the end by our specialists.
A large team of the best specialists.
Completed projects to the end by our specialists.
Completed projects to the end by our specialists.
How can the risk associated with Pay marketing lead generation be reduced?
Finding quality leads becomes crucial at this point. There is a perfect customer persona for each brand. Knowing your target market's characteristics is essential. A company that sells trendy jewelry will probably want to target young women who are interested in fashion, whereas a business that sells auto body parts will want to target people who have a strong passion for cars. PPL and digital marketing are frequently confused for one another, and some people even wonder if they are the same thing. 
There are some differences between PPL and digital marketing. Having said that, many PPL providers will employ various digital marketing strategies to aid in lead generation. One of the many methods PPL providers will employ to generate high-quality leads is digital marketing.
PPL is a marketing strategy in which the marketing firm is only compensated for highly motivated leads who intend to proceed with a purchase of a good or service. Each lead's price will be decided upon by the company and the marketing firm. In general, multiplying your customer acquisition cost by your customer acquisition rate will give you an accurate estimate of the PPL cost. 
If you have any questions, please contact us
Our professional team tries to do their best to provide you with high-quality consultations concerning any question about our services.
Our standard working procedure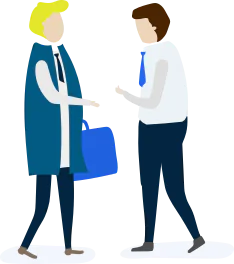 Communicating with client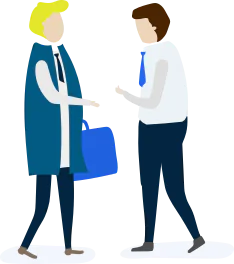 Consider and Analyze work Strategy
Frequently Asked Questions (FAQ's)
Sign up for our consultation