Both WooCommerce and Magento are great when it comes to features. With their insane popularity and functionality, it is not easy to pick a winner. Picking a website builder platform for your eCommerce business is not an easy task. We will take you through all the features, pros, cons, and services of these platforms so you can choose from WooCommerce or Magento. There is no ultimate solution to this comparison but we will try to elaborate on the differences between these platforms so you can choose one for your online business. WooCommerce is leading the chart with 47.3% shares of eCommerce platforms while Magento comes at second place with 13.1%.
WooCommerce
Launched on September 27, 2011, WooCommerce is the most popular eCommerce plugin for WordPress. It became popular due to its simple installation and customization for the market position of the base product as freeware. Transform any WordPress website or blog into an eCommerce store simply with WooCommerce. It is an open-source plugin for WordPress. Turn your WordPress website into a completely functional web store with the help of WooCommerce. You can start it by installing WordPress and various marketing tools, and buying and setting up web hosting. It is a little complicated for beginners, but once you start using it, all of your negative assumptions will be erased.
How to develop a website on WooCommerce?
Choosing WooCommerce to build your online business website does half of your work. Choosing the right platform is so crucial to take your business to another level. In this era, it is so important and helpful to have an online store along with your physical store. People try to buy everything online these days. So, having an online store to sell your products can be really progressive for your business. Once you have chosen your platform, it is time to create your website.
It is crucial to test your tool before the development process. Find and eradicate any kind of variance if there is any. Your store's progress depends upon this step. Make sure everything is fine and the template suits your business.
Choose a plan for your business
The next step is to choose a plan that fits right for your business. Choose the right plan according to your business. You can use free, paid-for individuals, and paid versions for company plans for these tools. The Number9 Woocommerce development agency helps its clients choose the right plan for their business site to ensure their success.
Buy a Domain and web hosting
The first two things to create your online store on WooCommerce are choosing the right domain name and web hosting account. A domain is like the address of your website. Your consumers use your domain name to find you out on search engines. For that reason, it is necessary to buy a unique and easily spelled domain name. Your website files and resources are stored in a Web hosting account. If the domain is the address of your website, then a web hosting account is the house. Your site is made available by a web hosting server that delivers the site files over the internet when someone enters your site's domain name. Both of these are the main objectives to create your website.
Your site should attract upcoming viewers. Use appealing templates to make your site look attractive. If you know how to code, then you can also design and develop your site by yourself.
Add products to your online store
Add details and pictures of your products to your online store. Write a description that makes the customer buy the product right away. Give all the required details.
Choose a secure and trusted payment method. This step ensures to convert your consumer into a buyer. You can use PayPal, Google Pay, Apple Pay, and other payment methods.
Test and publish your website
After all these steps, test your website to see and remove any bugs. If these bugs are not fixed, then they can negatively affect your website's growth. So, it is necessary to test your website before publishing. You can also create an amazing website by hiring a developer. Choose Number9 for custom Woocommerce development services.
Magento
Released on March 31, 2008, Magento has become one of the most powerful and popular eCommerce website builder platforms. It powers thousands of online stores. Even brands like Samsung and Nike use it. Magento lets you have control over the content, look, and functionality of your online store. This open-source platform is built-in PHP. The best thing about Magento is that it is made for beginners. You do not have to be a professional to use Magento. Only basic technology and English is enough to make your online store on Magento.
Custom Magento development services
Magento lets its users create their online store by themselves. Being an open-source platform, it is easily customizable. After finalizing the design, UI, and UX of your eCommerce store, the Magento website development company works to create your website. The process of website development includes:
Rigorous Testing

Speed optimization

Custom templates

Hosting configuration

SEO Optimized Coding

Custom Functionality Integration

Cross-browser optimization
Website Integration and launch
The next step is to use the Magento-powered eCommerce solution to integrate your current software. Number 9 Magento web development agency can help you manage this phase. Our professional developers make sure that your website is set to perfection.
After that, the website is tested and published. Our team will ensure your satisfaction with the web design and development of your website. Our well-trained professionals will make sure you run your store all by yourself.
What is Magento PWA development?
Magento PWA is a set of developer tools that let the development, maintenance, and deployment of a PWA store on top of Magento 2.3 or a better version. A build system and framework that sticks to the Magento principle of extensibility is created using modern tools.
Magento vs WooCommerce
Both of these platforms have great capabilities to create an online business store. They have their own pros and cons. Let's discuss the comparison of both of these platforms to see which one is better.
WoCommerce is great for a beginner-level online store, but its capabilities are limited and you will know that in some time. To get more of its features, you will need to pay more. This adds up to the cost of the eCommerce website. On the other hand, Magento 2 is free and is an amazing choice for those who do not have a big budget. Magento will cost about 200 USD per month, but it is a fair price for its advantages.
More than 30,000 sites get hacked every single day. This means that it is crucial to do everything to secure your website. Both WooCommerce and Magento have strong security measures through extensions and manual processes. WooCommerce provides good security, but for a limited time. You have to start paying after that. While Magento provides better security than WooCommerce with lesser cost. You can do security measures on your website using Magento Free security scan tool. Our Magento development Dubai agency can help you keep your website safe. Our developers ensure the safety and security of your website.
An easy platform is like a dream for beginners. Most people do not know about coding and technologies when they start their online business. A platform that does not require experienced coding knowledge is great for those people. WooCommerce is a great choice as it has an easy installation method and does not require a lot of knowledge. On the other hand, Magento is a little more complicated than WooCommerce because of its steep learning curve. You must know some coding and technical skills to be able to use Magento.
Both are open-source platforms and have the advantage of attracting a large community. They provide user support to their customer who runs into any kind of problem.
Platforms are mainly chosen because of their speed and performance for online stores. People never prefer a slower website over a faster one. A slow website causes the customer to lose interest in your store. It can result in the loss of your business. Modules and extensions affect the speed and performance of a website. As speed is determined by you and your hosting provider, it does not matter whether you choose WooCommerce or Magento.
As no eCommerce platform is perfect, they allow third-party developers to create plugins and extensions for them. Both platforms are known for a large number of add-ons to enhance your website's functionality. Magento allows you to enhance your website by buying free and paid extensions. The bad part is that you have to use the help of Magento developers to install the extensions properly and make it work if you can't. Similar to that, WooCommerce also lets its users install a wide range of extensions and plugins to customize their websites. Magento is more expensive than WooCommerce but it makes your website more powerful too, so in this case, the Magento vs WooCommerce comparison is lead by Magento.
WooCommerce vs Magento: Infographic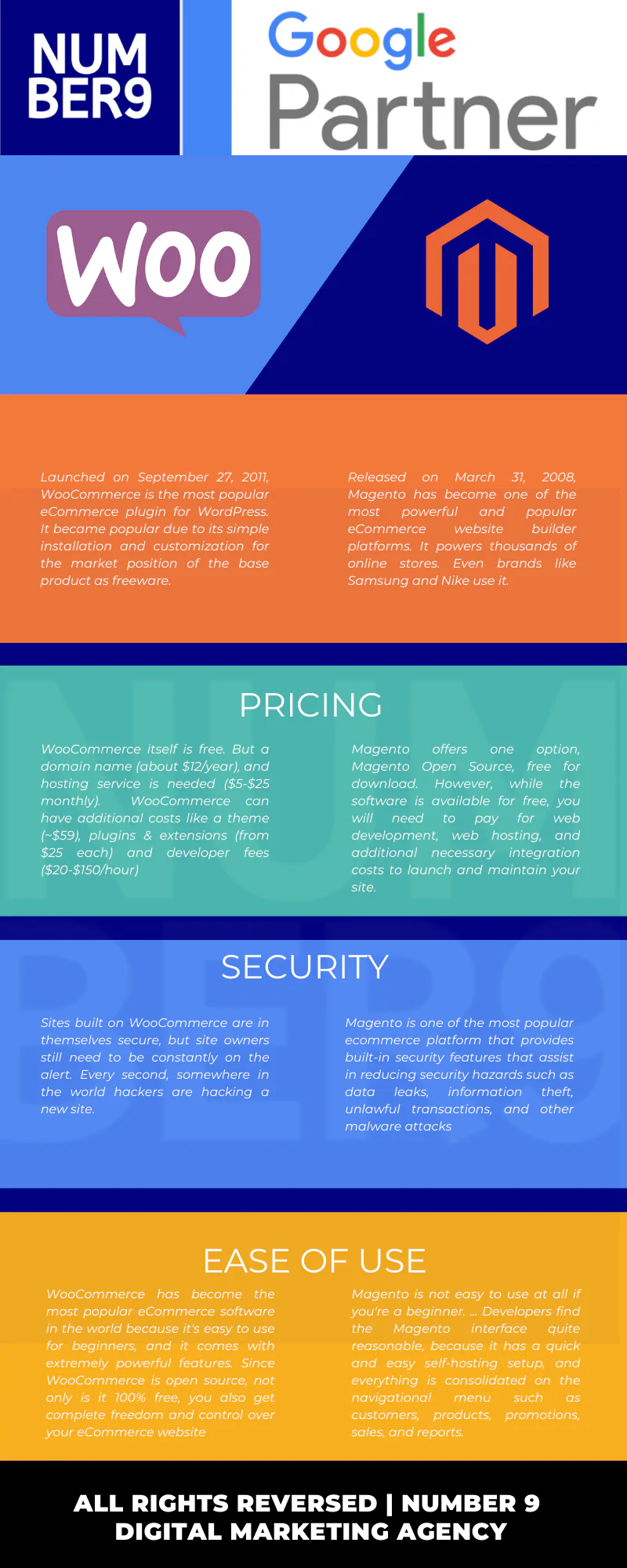 Conclusion
After all the comparison of WooCommerce vs Magento, you will notice that we still can not find a certain winner. Wondering why? Both Magento and WooCommerce have their own capabilities. Both are suitable for different businesses. So, it is not correct to choose one of them on the basis of which one is better. Choose the platform that suits your business well. Choosing the right platform for your business is very crucial and choosing a platform on the basis of comparison is can not be right. So, a person who wants to choose the right platform for his website should figure out which one suits his business better. Do not fall into the comparison of WooCommerce vs Magento. Our experienced Number9 professionals can help you pick the best platform for your website.